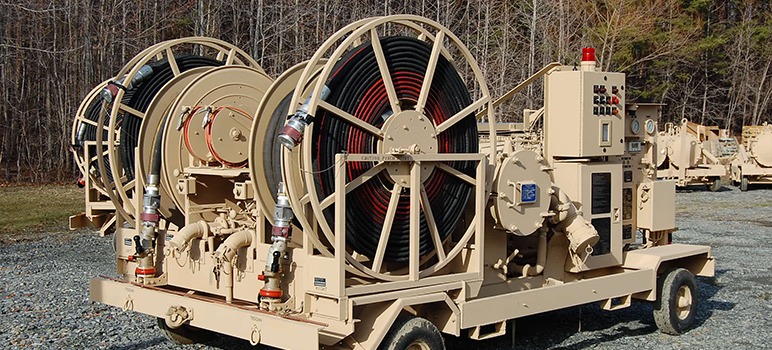 Rugged and Reliable, Reelcraft Offers an Extensive Line of Military Reels
CAGE Code: Reelcraft Industries – 52173

Reelcraft's extensive line of rugged and reliable military hose, cord, and cable reels are used around the world by all branches of the military for various applications, including fuel delivery, water delivery and fire fighting, cable storage, and much more. Reelcraft manufactures in accordance with mil-specs and procedures. Many models carry NSN numbers.

Wide-bodied, rugged reels are primarily used for hoses from 1″ to 4″ for transferring fuels of all kinds from delivery vehicles to all types of military equipment. During aircraft refueling, they are used in conjunction with other models that perform sensing, grounding, and dead man control functions.

Reelcraft hose and cable reels are used in various configurations for many other applications by the military, including fire fighting on board ship or at airfields, cable storage for telecommunication devices, hawser reels, and water delivery. Reelcraft's complete product line, the most extensive in the world, is being used in every aspect of daily duties in the military for durable, reliable performance.